13 x 60 mins HD
Karma Trekkers illuminates the power and passion and the mystery and intrigue of ancient peoples, forgotten customs and sacred places. It is a global lifestyle program that celebrates life changing, life affirming travel experiences.
Promo Video
Host Damon Redfern crisscrosses the globe on a mystical journey of self-discovery to locations of spiritual, cultural or historical significance. Karma Trekkers shines a light on human beliefs by exploring the mysterious lands and magical destinations that help shape what it means to be human.
Karma Trekkers is a sweeping epic, lovingly shot in high definition with unrestricted access to some of the world's most intriguing discovered and undiscovered destinations.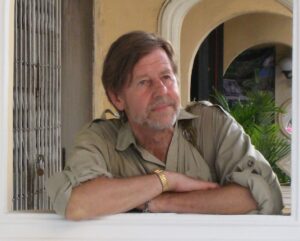 Damon Redfern IS the Karma Trekker. An Actor by profession, a Traveler by design and a Raconteur by nature, Damon was born in Britain but has lived in South America, Africa, Asia and North America where he now calls home. Damon began his life of travel at an early age and by the time he was a teenager had already traveled the world many times over. This helped inspire his love of travel and his fascination with the human condition. Damon's calm demeanor and natural curiosity help him to combine wit with wisdom and humor with insight. He never takes himself too seriously and is always ready with a limerick. Quite fittingly, Damon's name spelled backwards is nomad. Perhaps his parent's knew of his destiny from the start.


Season 2

EP 207 – Costa Rica
Damon travels to Costa Rica, a land of diverse ecological wealth; of ancient rainforests and majestic mountains; of endless beaches and verdant valleys. It is a world defined by color and infused with natural wonder. Damon indulges in the land and celebrates the people who dedicate their lives to protecting it.
---

EP 206 – Nepal
Damon travels from the dusty streets of Kathmandu to pristine mountains as he immerses himself in Nepal, a mystical land nestled in the Himalayas between China and India. With inspirations from neighbors Tibet and India, Nepal is defined by its' spiritual blend of Hinduism, Buddhism and a profound respect for the land.
---

EP 205 – Malaysia
Damon explores Malaysia, a multicultural country of color, tradition and beliefs. This nation of tolerance and faith, of history and culture, offers rich experiences from the urban sophistication of Kuala Lumpur to the raw beauty of the Borneo jungles.
---

EP 204 – China Part 2
Damon follows the sweep of Imperial China from the first Emperor 200 years before Christ to the last one, under a century ago. He discovers the scope of Chinese culture and spirituality that flourished under the power and intrigue of the Imperial Court.
---

EP 203 – China Part 1
Damon treks the rural heartland of China's remote provinces to meet some of the nation's most colorful and distinct ethnic minorities. In a land of 1.3 billion people he seeks out the distant villages and peoples that time forgot to learn their traditional myths and legends.
---

EP 202 – Taiwan
Damon explores the island of Taiwan and its rich history of indigenous tribes who are related to the Polynesian peoples of the South Pacific. He learns how the Taiwanese blend traditional practices with other faiths which leads to a spiritual journey to one of the world's leading Buddhist organizations.
---

EP 201 – Sedona, Az
Damon travels to the red rock desert of Arizona to explore the spiritual mysteries of the Southwestern United States. He meets with Indian Guides, New Agers, Artists and fellow pilgrims on a quest to learn about native beliefs, ancient myths and modern practices in one of the world's most magical settings.
---
Season 1

EP 106 – Ireland
Damon grabs his thirst and heads to Ireland, a land of haunting beauty and profound religious beliefs. He explores Ireland's spiritual history from ancient Celtic and Druid rituals to the power of the Catholic Church and on to Ireland's New Age renaissance.
---

EP 105 – Bali
Damon explores the beautiful island of Bali where he meets priests and prophets, attends weddings and funerals and gets assaulted by local monkeys. Fortunately the monkeys are no match for the Karma Trekker.
---

EP 104 – Myanmar
Damon travels east to Myanmar, commonly known as Burma. This Ancient Buddhist land is entering the modern world after a thousand years of isolation but it still allows Damon the rare opportunity to catch a glimpse of history before it slips away.
---

EP 103 – South Africa
Damon ventures to South Africa, a country of contrasts and complications, of hope and opportunity. Here he meets the people who are driving the country beyond its' uneven history and into a more positive future. He also takes the time to experience the natural wonder of a safari in Kruger National Park.
---

EP 102 – Malta
Damon explores the small devoutly Roman Catholic country of Malta. Strategically located in the Mediterranean, Malta is an island defined by the legends of the Knights of St. John, the miracles of St. Paul and the possibility that it may have been an outpost of the fabled lost city of Atlantis.
---
EP 101 – Peru
Damon returns to Peru a country he lived in as a child in order to trek to the majestic Inca ruins of Machu Picchu. Here Damon explores the myths and legends of one of the world's most mysterious ancient empires.